An EU restriction targeting all PFAS for all uses is underway. Is your company ready for this universal PFAS ban and its repercussions? Here are the current and upcoming PFAS restrictions, along with safe alternatives to these harmful "forever chemicals".
Up until recently, the approach to regulating the chemical "family" of PFAS has been to restrict the substances one at a time, or impose group restrictions based on the number of carbon atoms in the molecular structure: C6 (PFHxA, PFHxS, and related substances), C8 (PFOA, PFOS, and related substances), C9, and so on.
Although reasonably clear and structured, this approach has often resulted in so called regrettable substitution: switching from the restricted PFAS chemical to an equally, or even more hazardous, unregulated "cousin".
Since all of these approximately 5,000 man-made chemicals share similar characteristics – carcinogenic, endocrine-disrupting, immunosuppressive, mobile or bioaccumulative, and extremely persistent – regulating them one by one or in small groups is clearly not an efficient way forward.
One PFAS regulation to rule them all
So now, five EU member states (Germany, the Netherlands, Norway, Denmark, and Sweden) have taken the "forever chemicals" regulation one step further. These countries have started working on a universal PFAS restriction proposal, targeting all PFAS for all uses, or as it says in the proposal: "Restriction on manufacture, placing on the market, and use of PFAS."
These graphs illustrate the progress, relevance and scope of PFAS restrictions that are in the making or have already been decided: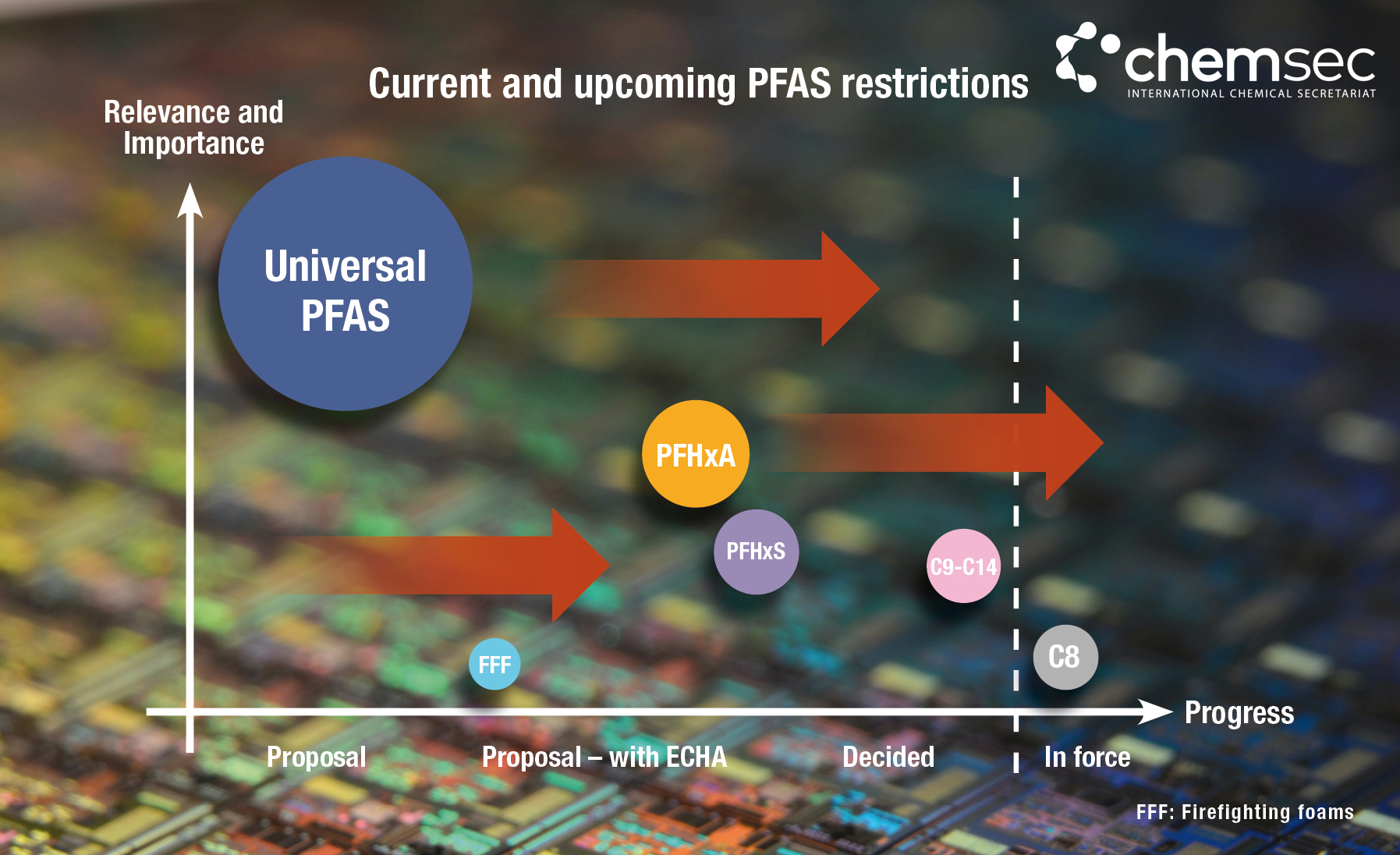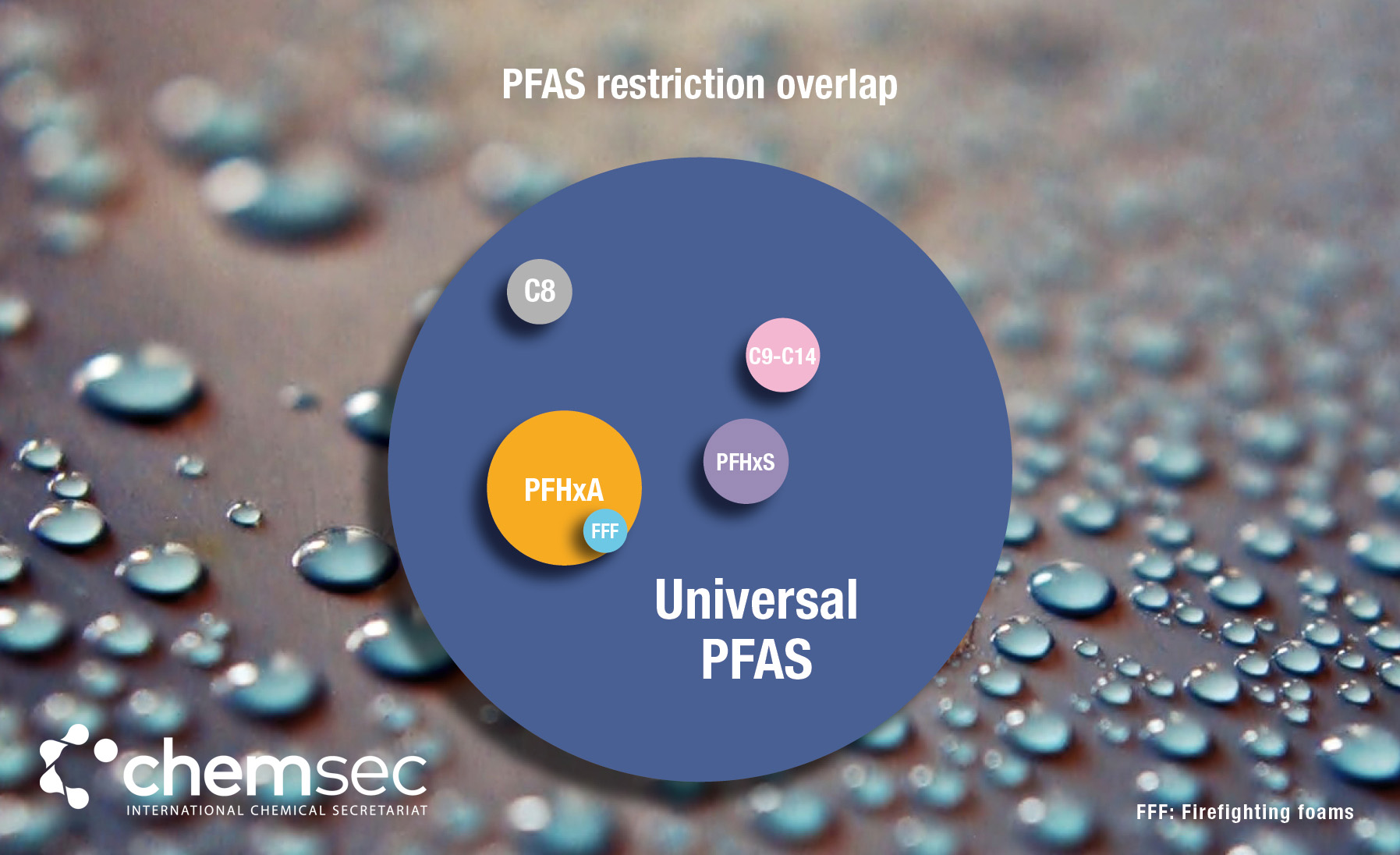 If done right, the universal PFAS restriction will be the only regulation we need to put an end to the use of harmful "forever chemicals".
Future-proof your business – get rid of PFAS right now
Obviously, this restriction means that companies who are still using PFAS in their products will have to speed things up and place the phasing out of "forever chemicals" at the top of their agenda.
The universal PFAS restriction proposal is still being designed, and we can expect a decision on it in 2025 – at the earliest. Now, three years may seem like a lot of time to replace hazardous chemicals with safe alternatives, but suppliers, product designers and production managers will tell you that it's going to be a really tight race.
Luckily, Marketplace now features more than 60 (and counting) safe alternatives to PFAS in a wide range of applications, ready to exterminate PFAS and future-proof your business. Respondol ATF from Angus Fire is one of them – a fluorine free fire fighting foam for all types of flammable liquid fires and Class A incidents.
Natural Greaseproof from Nordic Paper (PFAS free food packaging and preparation paper made from refined fibres) and HeiQ Eco Dry (fluorine free water repellency for garments like outdoor jackets, windbreakers, hiking pants, fleece, and footwear) are two other alternatives to PFAS available here on Marketplace.