Clearya exposes hazardous ingredients in cosmetics
Not long ago, you had to be a working chemist to understand if there were potentially hazardous chemicals in a product. Nowadays, you don't have to. With the help of apps and other digital tools, products are now immediately red-flagged as unsafe choices.
Amit Rosner runs the self-funded project Clearya, which helps consumers choose safer cosmetics and personal care products by alerting them of potentially hazardous ingredients. But that hasn't been the case for very long.
Up until a couple of years ago, Amit worked with building start-ups in the renewable energy sector and everything was going well. Then, suddenly, his life was turned upside down when his wife was diagnosed with breast cancer. Luckily, the cancer was caught early and his wife recovered after operation and chemotherapy. But Amit couldn't understand why this had happened to her.
"Then I found out that many female cancers are triggered by the oestrogen hormones and that exposure to toxic chemicals can be a culprit", he says.
The couple started to change their consumption habits, switching to organic food and putting a conscious effort into choosing safer products. But choosing safer products wasn't always easy. The ingredient lists of some products were packed with complicated chemical names and extremely difficult to decipher.
"With cosmetics and personal care products, it's impossible to know if they're safe. You can read the ingredients list as many times as you like and you still won't understand what's in the product", he says.
Amit decided to try to change that – or at least inform consumers about the potential hazards of the products' ingredients. So, he created Clearya.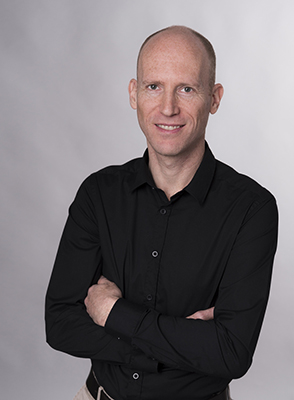 Photo credit: Michal Benedek
Clearya is a free chrome extension that you install on your web browser. When shopping online for makeup, personal care, baby care and household products at selected stores – including Amazon and Walmart – Clearya notifies you if there are unsafe ingredients in the product you're looking at. The chrome extension automatically cross-checks the products' ingredients lists with a diverse set of hazardous substances lists to show you potential negative effects that are linked to ingredients and if they are banned or restricted somewhere.
Clearya isn't the only digital tool aimed at helping consumers choose safer products. Lately, mobile apps that screen products for hazardous chemicals have been popping up here and there.
Last year, the European Union funded a smartphone app – Scan4Chem* – that uses a barcode scanning system to let consumers know if the product contains harmful chemicals or not. If information is not available, the app urges the user to exercise the consumer's right to know and send an e-mail to the producer asking about hazardous ingredients.
"People think that if a product
is allowed on the market then
it must be safe.
But that's not true"
In the coming month, Clearya will expand into the smartphone universe and release a mobile app of its own, making the information available to even more people. People who otherwise might not have thought twice before buying a personal care product.
"People think that if a product is allowed on the market then it must be safe. But that's not true, there's actually a huge gap between what's safe and what's allowed", Amit says.
Not long ago, companies – from a sales point of view – could get away with having problematic substances in their products as long as they were compliant with the law. This is no longer possible. Consumers are better informed than they were a couple of years ago and with the help of apps and other digital tools, the hazardous ingredients no longer go unnoticed. This trend goes hand in hand with Amit's long-term goal:
"I believe that if consumers are aware of the harmful chemicals present in a product they will choose a safer one, and by doing so they increase the demand for such products and create an incentive for the industry to transition to safer ingredients", he concludes.